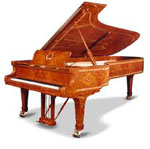 Last night, 5am in the morning, I spent £29 online buying a piano soft synth that is compatible with Native Instrument's Kontact player. Its the Fazioli Brunei.
The specs page and demos can be found here:
The samples are compressed to about 100mb in size after using Kontact's lossless compression. 68 out of 88 keys are sampled, and at the most played octaves.
I found that at £29 it was quite reasonably priced,. Also , having already made up my mind to acquire the NI Komplete 8 Ultimate, which will give me access to Kontact player. With that in mind, I bought the virtual instrument.
They sent me a link to download today after they processed my payment (that's just a few hours later).
I've just downloaded and tried it out. on my free Kontact 5 player downloaded from Native Instruments site. I held the notes on sustain and they smoothly die out after about 5 seconds. It is sort of natural, but I felt that they die off too soon.
Also, I don't know if it is due to insufficient processing power on my laptop (Its intel i7 quad core with 6gb RAM running on 64-bit Windows 7 though), or my onboard audio card, thereare some instances where there is adisturbing buzz after playing it for a while. I'll have to wait till my Komplete 8 collection comes, then I'll import the instrument permanently into Kontact.
Here's some history about the Fazioli Bruinei:
The Fazioli Brunei is the piano model from Fazioli that came out in 1996.
Quoted from Wikipedia:
"The unique Brunei concert grand is produced with inlays of precious stones, mother of pearl and exotic woods."