The Audio Spotlight is hosting a contest to promote Sample Logic's new release: Cinematic Guitars 2
Here's the
official contest page
, with the rules and regulations.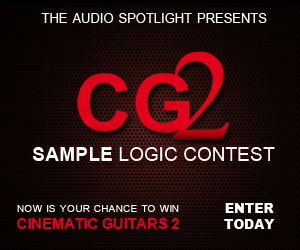 Prizes:
1st prize: 1 Cinematic Guitars 2 + $400 SL Cash to use in Sample Logic's store
2nd prize: 1 Cinematic Guitars 2
3rd prize: $200 SL Cash to use in Sample Logic's store
Some of the Rules concerning the submission requirements, methods and formats:
In this contest, contestants are required to submit a piece (only ONE piece) of original composition not exceeding 2 minutes in duration.
This piece must highlight at least one Sample Logic product.
All work done on the piece of music must be entirely from the contestant. This means no collaborations are allowed.
Submissions must be uploaded to the The Audio Spotlight's group created for this contest on SoundCloud.
Click to join, submit, or listen to some of the submitted works
!
Submissions must use Soundcloud's mp3 format @ 192kbps.
Contest ends on Wednesday 3 Oct 2012, 11:59pm PST.
For a complete and updated list of rules involving the contest
,
please visit the official contest page
!
There is still time to enter! All the best!
Latest Updates
:
The deadline is now
Midnight, 7 Oct GMT, on a Sunday
.