I received an email notification about December offerings and promotions from Native Instruments.
One of the things that caught my eye, they are giving away a free synthesizer that runs on Reaktor. It's called Skanner.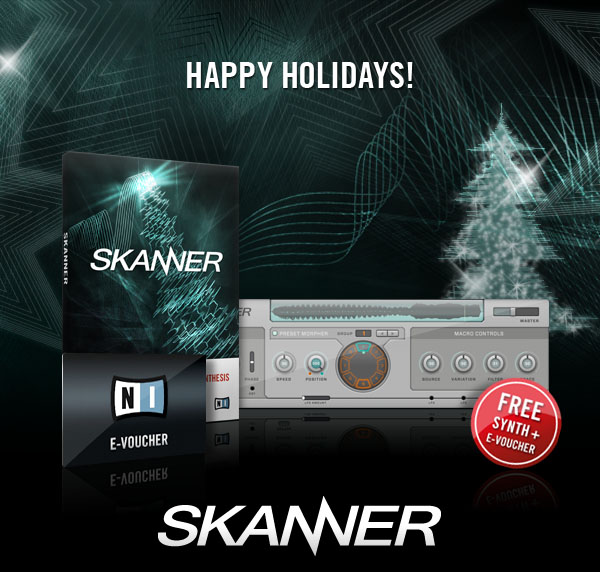 The image attached in the email
Skanner is a synthesizer with a unique architecture, offering a unique blend between sampling and synthesis. With this refreshing new method of synthesis, we can generate unlimited variations of new sounds, from our own supplied samples. Sounds like clean sine waves to raw, dirty and grimy sounds are all possible with Skanner.
In the centre of the interface we can see a huge dial with numbers. This is the Preset Morpher, the heart creative possibilities which this plugin is based on. NI calls it Morphological Synthesis. This allows us to load up multiple presets and morph the sound from one preset to the other. The speed of morphing can be controlled. This makes it a really powerful and versatile synthesizer, capable of creating really out-of-this world sounds that other synths cannot.
The image above shows the simple 'A' interface that controls the most commonly used features. However, there is also a second 'B' interface that shows more complex and detailed controls for those who need it.
Skanner will install with 136 presents / sounds, falling under the categories of pads, soundscapes, leads, bass, keys and sfx.
I do not know if this is being given away as a time-limited offer, so don't hesitate! Go over to Native Instrument's website and listen to the demo tracks to get a taste of the kinds of awesome sounds this plug-in can create! Moreover, its FREE. Read up more about this free Reaktor-powered synthesizer at the Skanner product page

.